Beskrivelse
SW1X Audio Design™ DAC III Balanced Performance Level 3/4 D to A Converter
The Balanced version is a top of the line DAC III and a smaller brother to the DHT powered signal output transfromer de-coupled DAC V.
Similarly to the Special version it comes equipped with a EL84 power tube output stage. The step up in transparency over the Special version is provided by Super HiB DC-core de-coupled EL84 power pentode (triode connected) tube output stage driven by the mighty 6N1P double triode.
Signal Output Transformer de-coupling of the Valve Output Stage is the closest approximation to a truely "invisibly" sounding DAC.
The major benefits of having a signal output transformer (L- inductive loading & de-coupling) over a resistor-capacitor (RC) signal de-coupling is as following:
Signal output transformers can become invisible components only if the finest core materials, wires and optimum winding techniques are employed – the transparency as well as linearity are improved relative to capacitors, which all tend to mask low level nuances
The dynamics are stepped up because the tube is inductively loaded (one gets all the gain of a tube but at lower DCR) unlike with a high value resistor which lessens dynamics
The output impedance of a tube output stage is lowered (stepped down, squared root of the ratio), which gives a better drive to the consecutive amplification stage. This in turn provides a more convincing dynamic realism
Super HiB transformer de-coupled limited production Signature version of the DAC III Balanced with silver wound output transfromers is available on request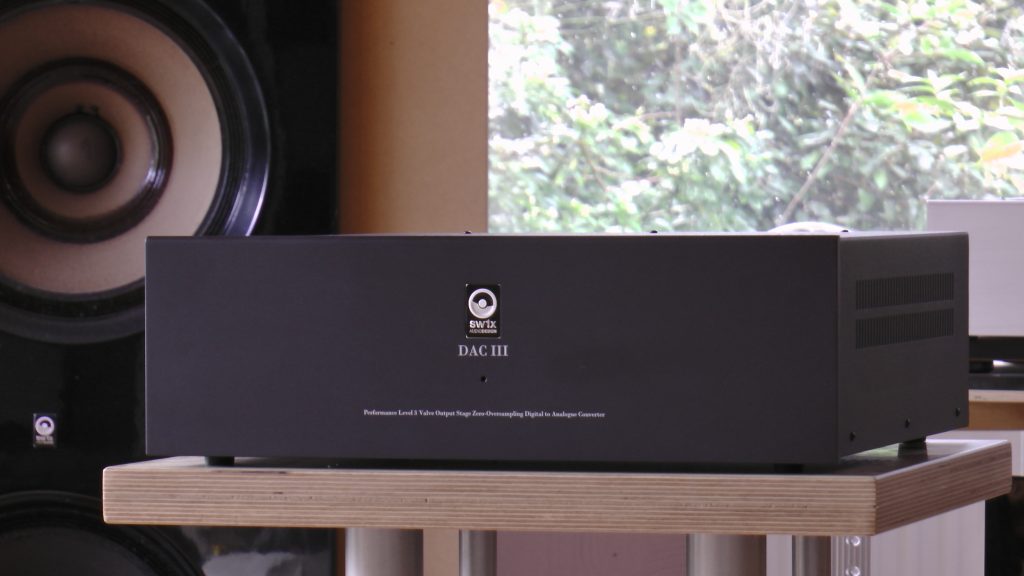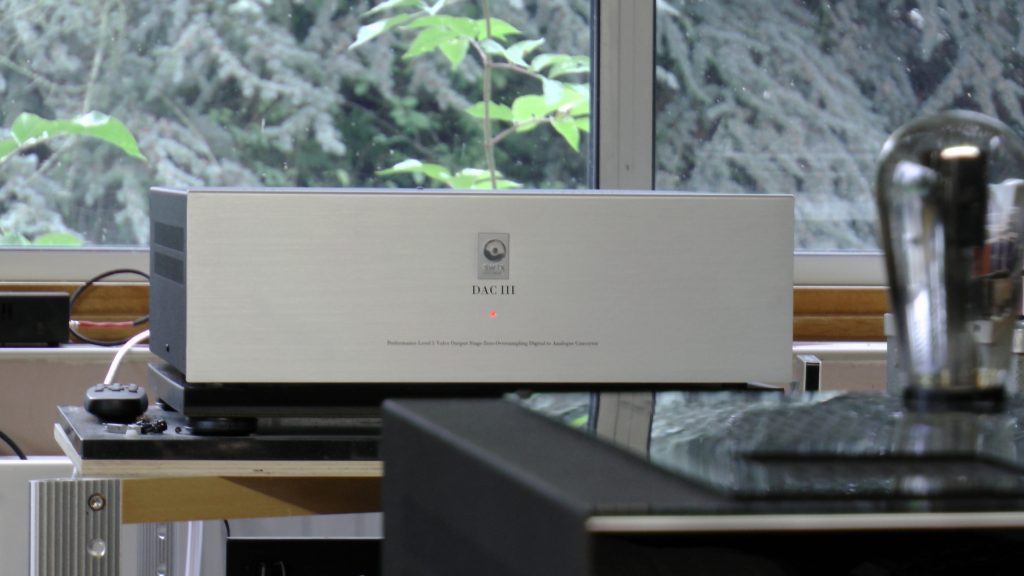 SW1X Audio Design™ DAC III Balanced Features:
NOS (Non Oversampling – Zero Digital Domain Filtering) Design
Specially Selected and Harmonically Matched Component & Material Quality
Balanced Signal Output Transformer de-coupled Valve Ouput Stage Topology
Orient Grain, Super HiB Double-C Core Signal Output Transformers are wound with Specially Selected Copper
2 x EL84 power pentode (triode connected), zero NFB, Class A, Valve Output Stage
Passive I/V conversion via a specially selected resistor with the shortest signal path directly connected to the tube grid
Dynamic Element Matching (DEM) of the TDA1541 powered by an asynchronous E180F Valve Clock powered by EAA91 Valve Rectified & Choke Filtered Power Supply
Discrete Transistor, Shunt Voltage Regulated Low Voltage Power Supplies
5U4GYB/5R4GYB Directly Heated Valve rectified CLC (choke filtered) B+ Power Supply
Circuit is wired with a Specially Selected copper (single strand or Litz)
M6 orient grain EI core mains transformers & chokes (HiB double C-core available as an option)
Digital Input supports up to 24Bit/96kHz S/PDIF Signal Input
Optional Extras:
a) Pure silver winding of the SHiB DC core signal output transformers instead of all copper windings, which are standard.
Fully silver wound (primary and secondary) or partially copper (primary)/silver wound (secondary)
b) All power transformers are SHiB DC core.
c) Valve output stage Hard Wiring on a Bakelite Board.
d) Fine silver wiring in selected places, usually on the Bakelite Board between passive and active components and output wiring.
Note: Due to SW1X Audio Design's ongoing research and development process, specifications are subject to change without notice.
DAC III is availble with C- and EI- cored Super HiB signal and power transformers (or chokes) as an optional extra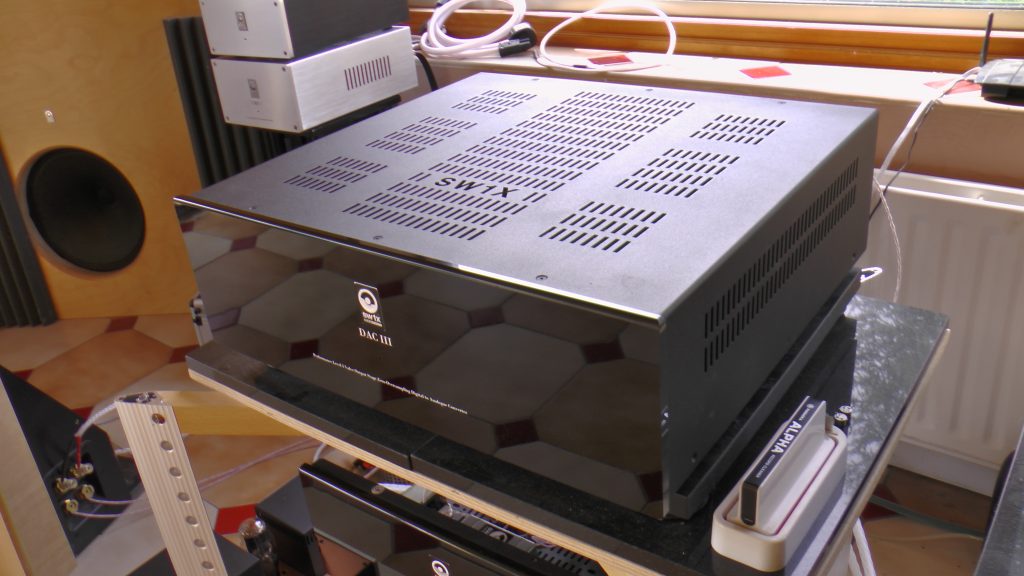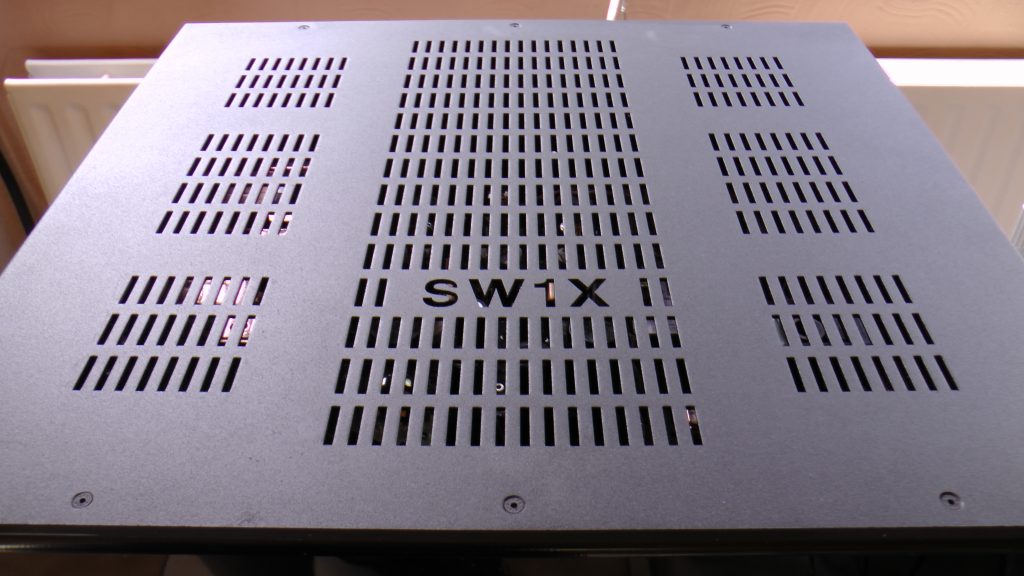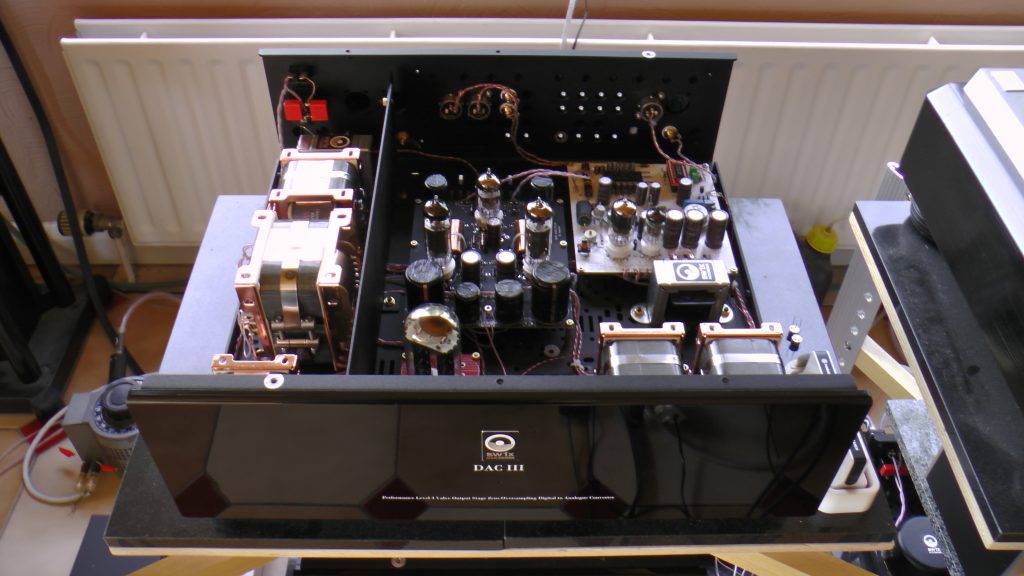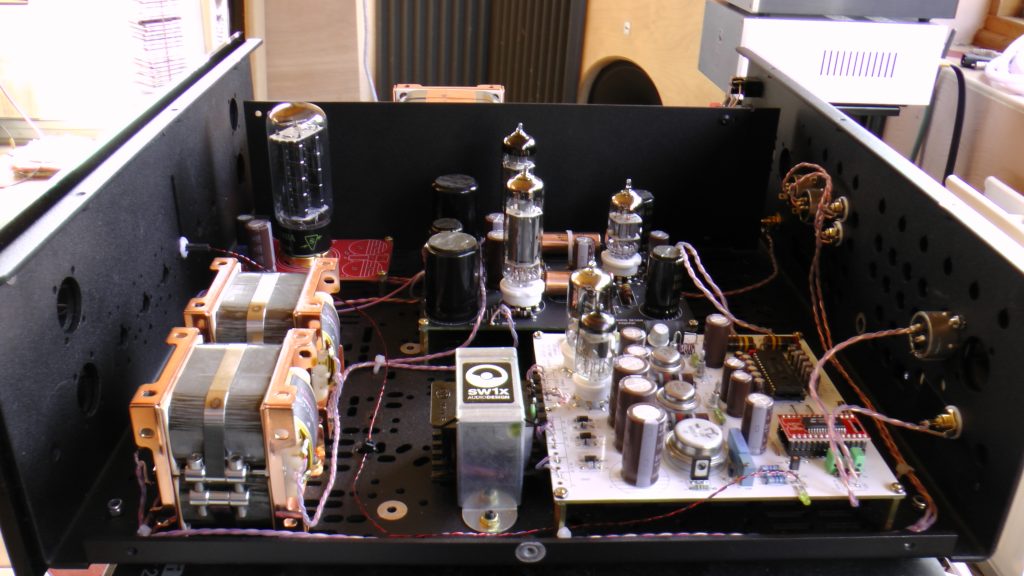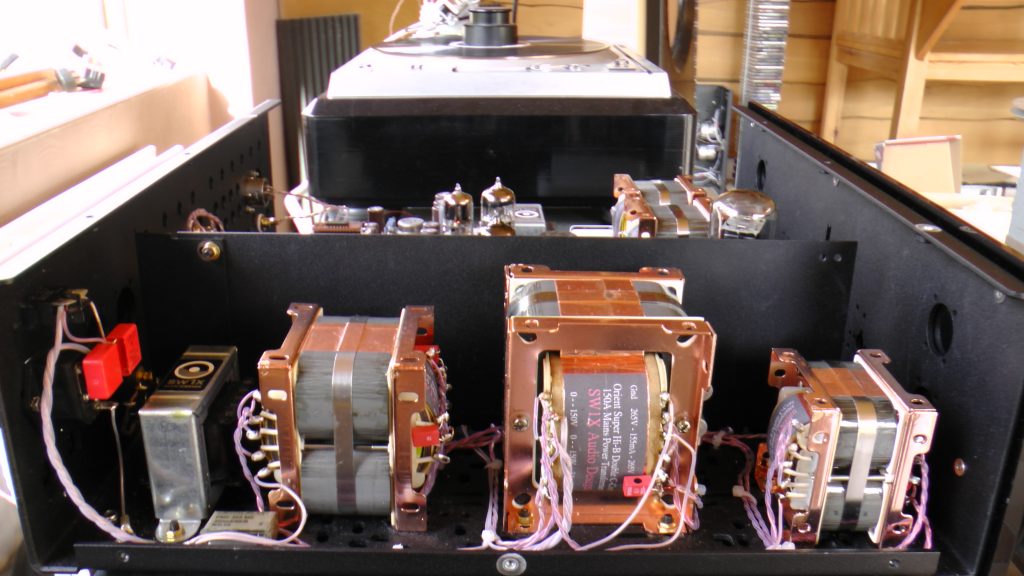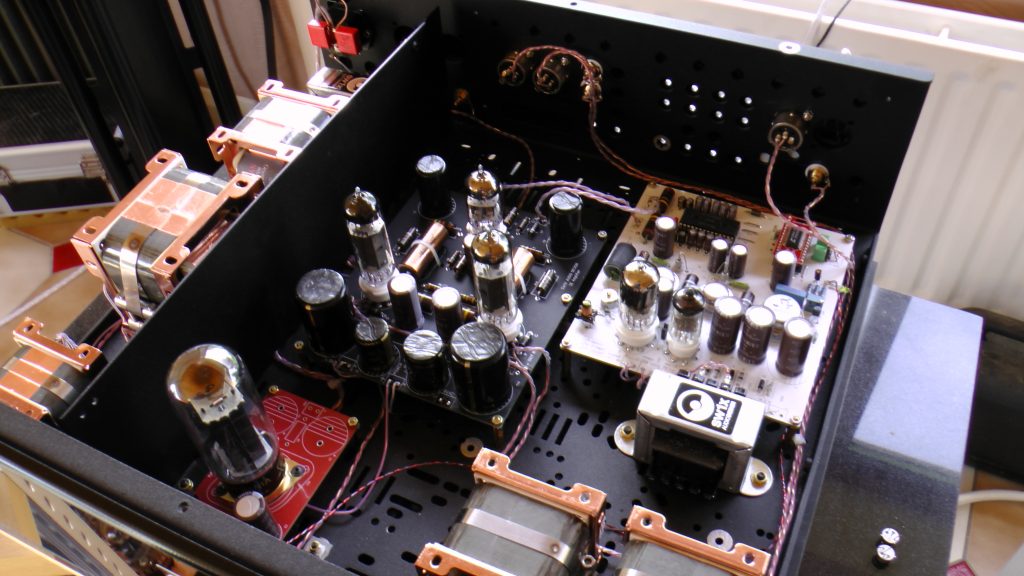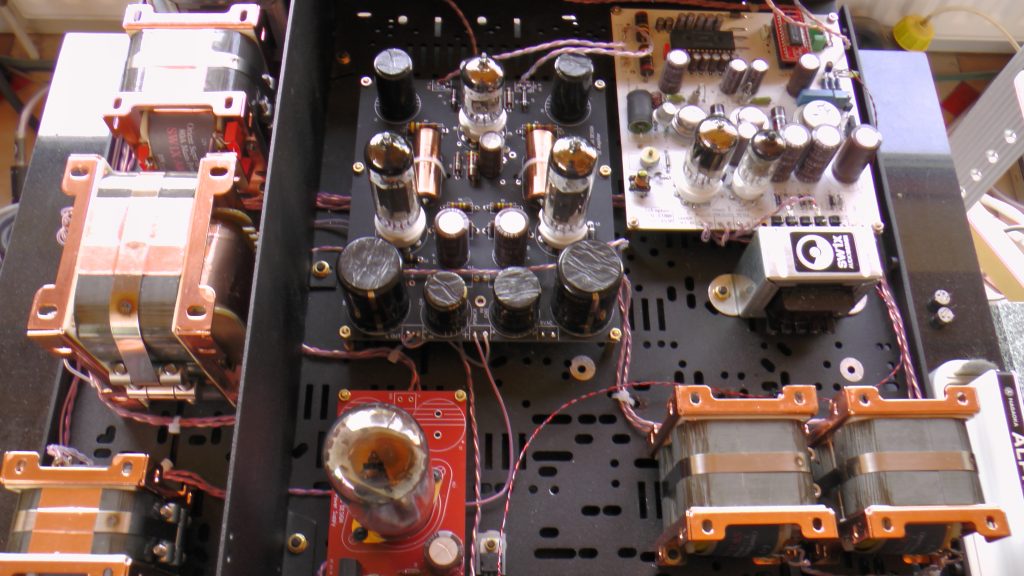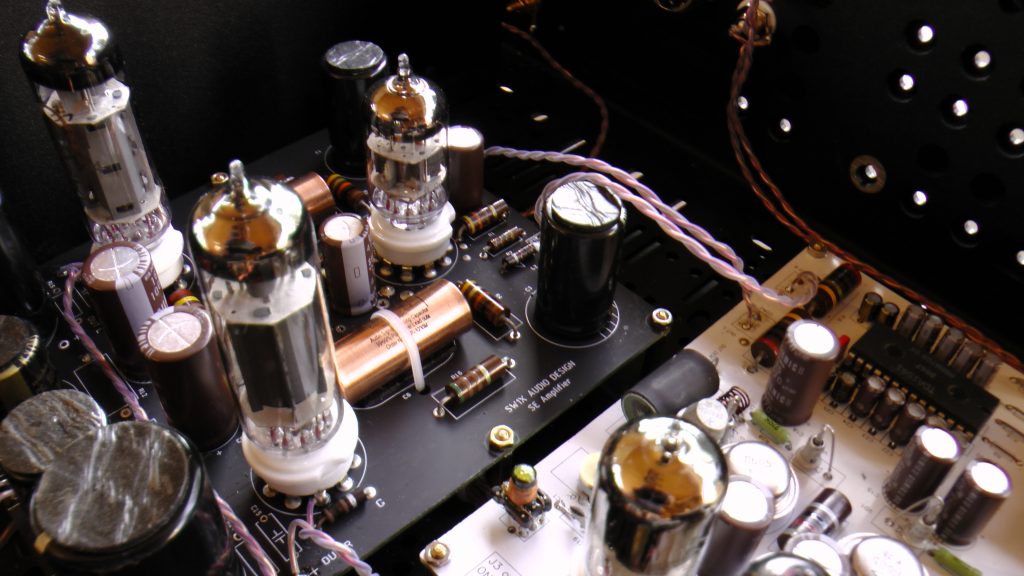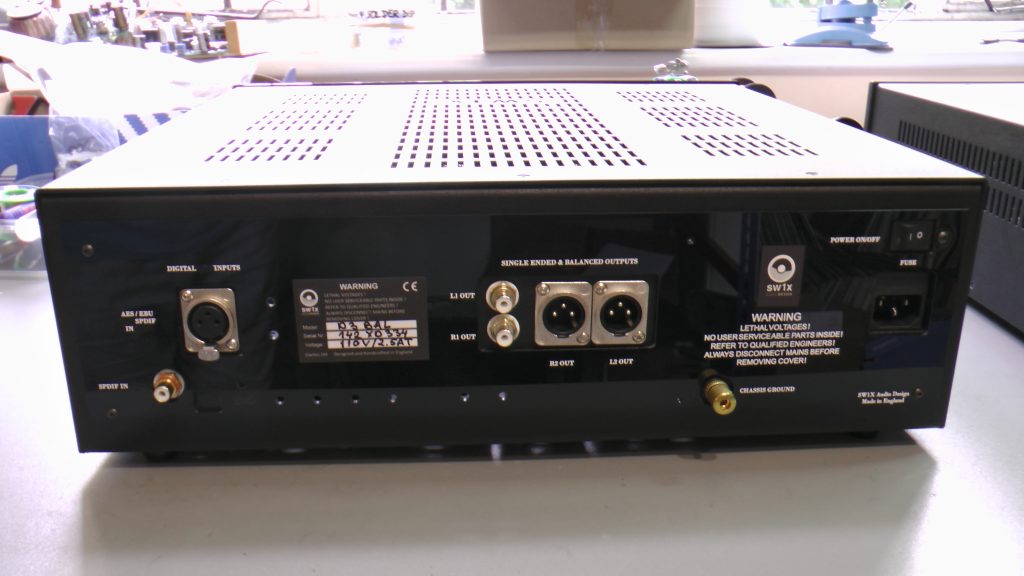 Specifications
Dimensions: Height (mm) 150 x Width (mm) 450 x Depth (mm) 410
Weight (kg): 18
Max Power Consumption (W): 23
Output Noise, Unweighted (mVrms): < 0.5
Output Impedance (Ohms): <100
Tube Compliment:  2 x EL84, 1 x 6N1P, 1 x 5U5GYB/5R4GYB, 1 x E180F, 1 x EAA91
Reviews and customer's feedback can be found here